ANNUAL UPDATES – SEPT 2023
SEPT 2022 - AUG 2023: $151,000 AWARDED
| | | | |
| --- | --- | --- | --- |
| QUICK GRANT | OCT 2022 | $10,000 | Lighting packages installed on Main Street |
| LOCAL GRANT | NOV 2022 | $125,000 | Facade Improvements and partial funding for Small Business Boost |
| COHORT GRANT | MAY 2023 | $16,000 | First Friday Spotlights in key locations |
Year One was a busy and productive beginning for the Downtown Hyannis TDi District partners! New zoning regulations passed in February to encourage form-based mixed-use and residential development in the downtown area. Grants have been awarded to support small businesses, an Investment Prospectus was published by the Town, and a number of efforts are underway to shine a spotlight toward ongoing initiatives to support the Downtown Hyannis TDi District.
PARTNER NEWS: The Cordial Eye at 255
A highly valued Hyannis TDi Partner, The Cordial Eye announced the opening of their new permanent location at 255 Main Street in May. Classes and workshops for community learners of all ages are offered as well as exhibition and performance opportunities, community events, collaborative work space for creative professionals and use of space by partner organizations. The Cordial Eye strives to highlight the power of the arts for community care and social justice. In July, the group collaborated as part of the Arts & Justice Collective to activate public spaces in unique ways that brought hundreds of people to gather at the Guyer Barn for a fashion show, to the Bandstand for music and dance performances and to Aselton Park for a pop up market.
FIRST FRIDAYS – A TDi COHORT GRANT RECIPIENT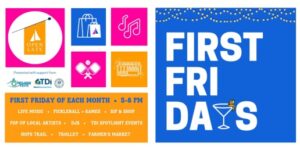 The Downtown Hyannis TDi District was awarded a competitive cohort grant that seeks to infuse the community with awareness of projects within the TDi District by supporting a new event produced by the Hyannis Main Street Business Improvement District.  (BID)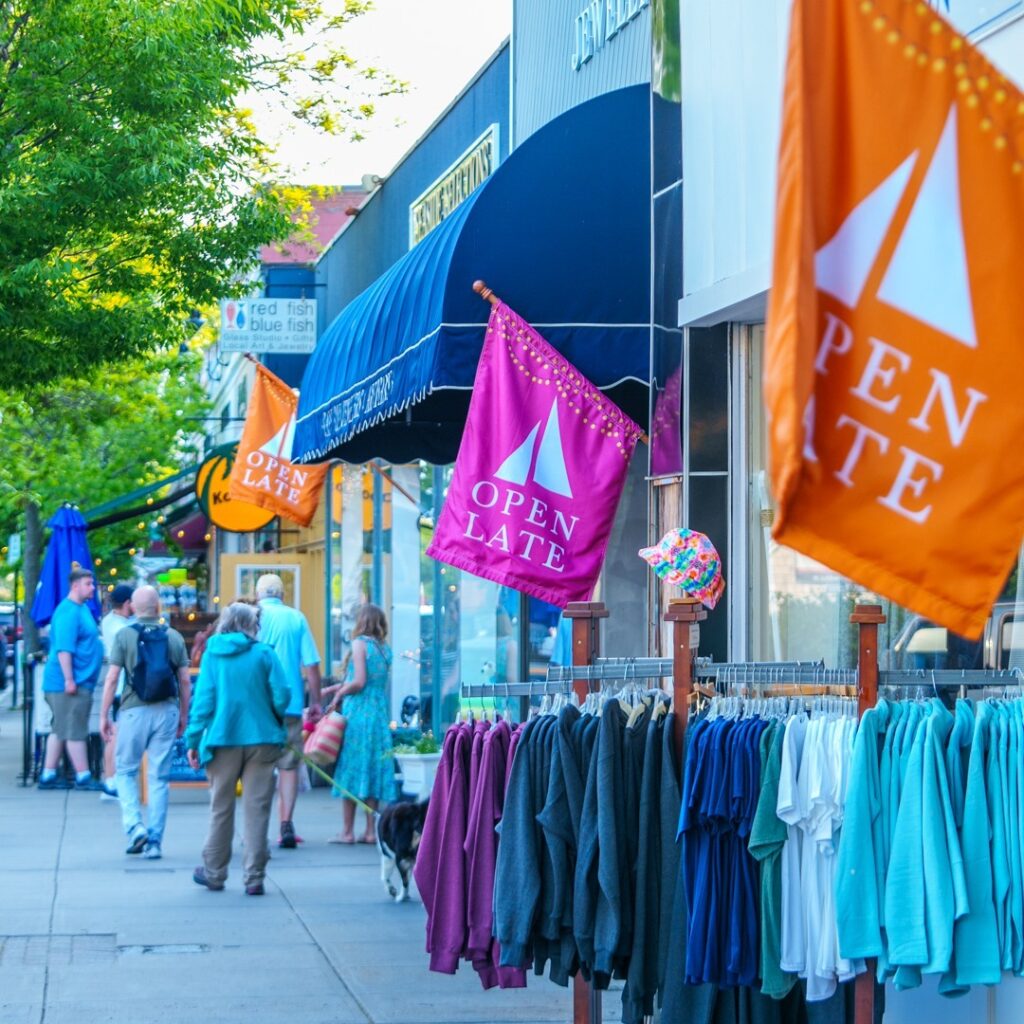 On the first Friday of the summer months in June, July and August, four "spotlights" were designated as part of the ongoing First Friday celebrations whereby businesses on the street stay open late until 8PM and offer distinctive attractions such as live music and performances, special gallery showings, sip 'n shop events and opportunities not normally available during normal business hours. These 'spotlights'  were developed to publically promote, acknowledge and amplify our collective work in the district.  Banners and social media campaigns were utilized to highlight the initiatives; spotlight properties include Conrad's Alley at 282 Main Street; The Community Art Wall at the Hyannis Public Library; the Hyannis Village Green; the Hyannis HyArts Campus which includes the Guyer Art Barn, artist exhibit & work studios on Pearl Street.  Façade improvement grant awardees were additionally spotlighted with vinyl stickers on storefront windows.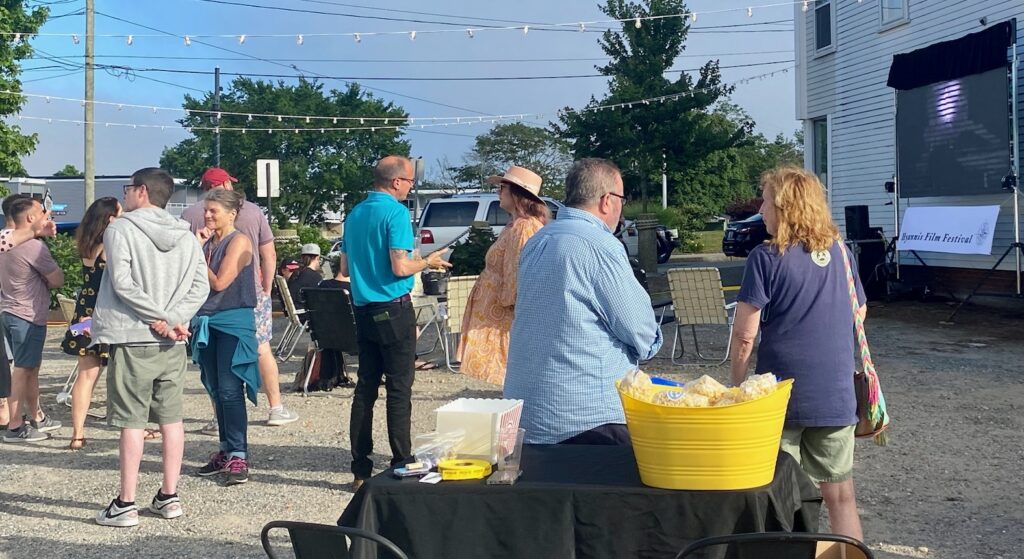 Film @Conrad's Alley – Hyannis Film Festival partnered with the Cape Cod Film Collaborative to provide public outdoor screenings of family-friendly films and videos. Films entertained brief segments. Examples included vintage movies, short videos about Barnstable and Cape Cod, cartoons, and short reels featuring ongoing projects and events within the Downtown Hyannis TDi/MassDevelopment District.
The recurring BID First Friday event continues to take place and plans are to extend the new event through the fall and winter months of 2023. People who are "out and about on the street" is the ultimate place making mission. We are honored to have the assistance and guidance of Mass Development as our partner in generating excitement and energy for our community.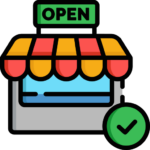 SMALL BUSINESS
Over the course of the year, $235,000 in grant funding was awarded to small businesses in Downtown Hyannis through the Façade Improvement and Local Business Boost grant programs.
The Downtown Hyannis Façade Improvement Grant Program awarded $115,000 in funding to 21 small businesses to improve the aesthetics of their storefronts. Projects funded included new signage, awnings, planters, and other attractive exterior improvements. Through additional matching funds provided by participating businesses, this funding is expected to result in approximately $400,000 in new investment to the Downtown Hyannis area.
This program was made possible through funding from a $75,000 TDi Local Grant, which was supplemented by a $40,000 Cape Cod Chamber of Commerce REDO Grant via the Mass Office of Business Development. The Town of Barnstable's Planning and Development Department worked collaboratively with the Hyannis Main Street BID and Love Live Local to plan and administer the grant program.
The Local Business Boost Grant Program awarded $120,000 in funding to 20 small businesses seeking to improve, enhance, and elevate their current business operations. This program pairs grantees with local service providers who offer technical assistance and implementation support for projects such as e-commerce development, social media strategic planning, and interior improvements. This grant program is managed by Love Live Local in collaboration with the Town of Barnstable's Planning & Development Department and the Hyannis Main Street BID. Funding was provided through a $50,000 TDi Local Grant and an Urban Agenda Grant from the Massachusetts Executive Office of Housing and Economic Development.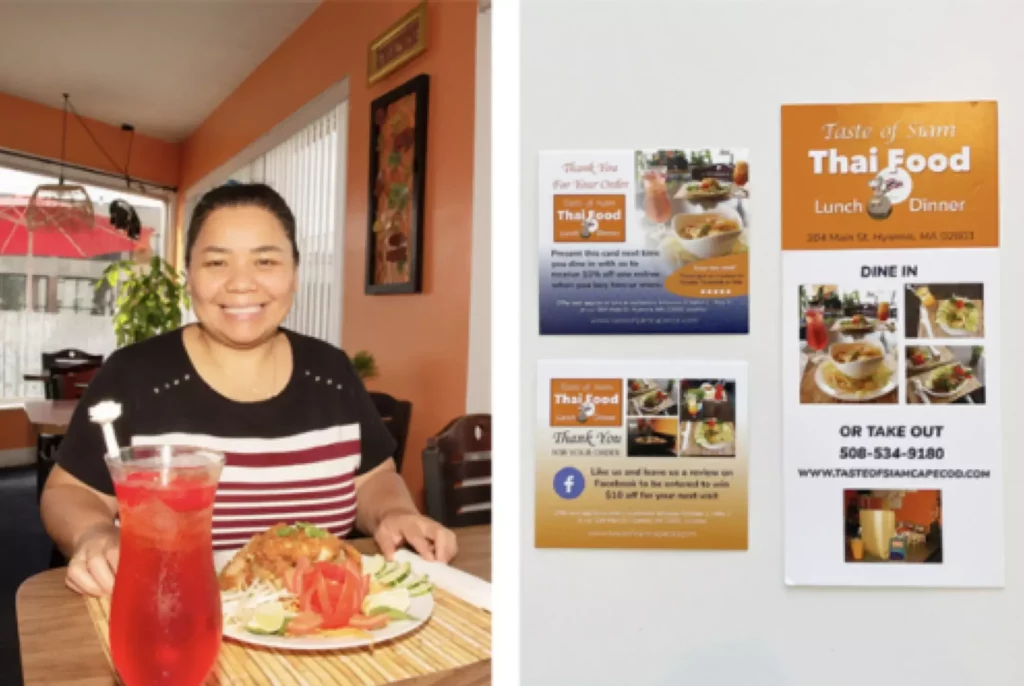 ARTS & CULTURE ECOSYSTEM
The Hyannis Community Art Wall – The Cordial Eye celebrated the opening of the new Hyannis Community Art Wall at the Hyannis Public Library with community paint day! The Hyannis Community Art Wall has been providing a living exhibition space that can be built upon by professional and amateur artists alike. It remains open to the public during Library hours for all to contribute and has received overwhelmingly positive reviews according to Library staff. "Grab a can of spray paint, test your skills, and make your mark on our community."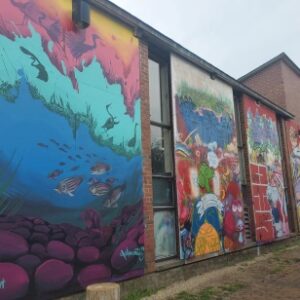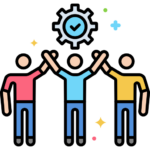 PUBLIC REALM
The Quick Grant infused the Downtown Lighting Packages with custom creations that contribute to the character and ambience of public spaces. 
Village Green – The town is embarking on a redesign of the Village Green! With Technical Assistance provided through MassDevelopment, a team from Toole Design conducted community engagement listening sessions for this important community gathering space. The team provided several design scenarios with the data they collected. As this venue is home to a historic 'village square' of community participation, culture and transformative placemaking, its new design will set the tone for future Barnstable. This Technical Assistance grant will conclude in November 2023 and is valued at $75,000.00. should this value be put into table above?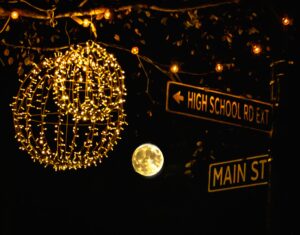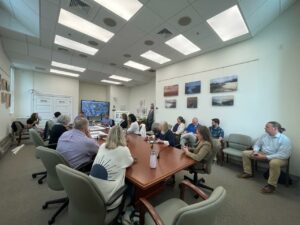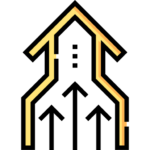 HOUSING
MassDevelopment's TDi Program and the Town of Barnstable Planning & Development Department, together with International Business Relations, invited the community to a Construction Workshop in March at the John F. Kennedy Hyannis Museum, 397 Main Street, Hyannis. The event connected dozens of housing developers, construction professionals, realtors, property and business owners, and other stakeholders and featured a panel discussion about housing opportunities, resources, and development experiences in Hyannis.
The panel participants were Jim McKeag, TDi MassDevelopment Fellow Fall River and South Cluster Lead; Elizabeth Jenkins, Town of Barnstable Director of Planning & Development; and Carlos Barbosa, owner of Colors of Cape Cod Construction Company and Copacabana Developers. The morning included networking and a Brazilian breakfast.
This construction workshop, along with new Downtown Zoning regulations and a streamlined permitting process, yielded dozens of new inquiries from property owners regarding the possibilities of redeveloping properties within the District.  For a brief snapshot, please view a short video here.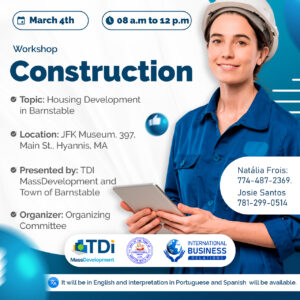 YEAR TWO – A STRATEGY FOR GROWTH
Representatives from the town and partnership attended networking sessions in July; one located in Boston and the other in Worcester hosted by MassDevelopment. This gave the Hyannis group a chance to listen and share experiences and best practices with other TDi communities through workshops, site visits and good old fashion face-to-face interaction around some great food!
The partners kicked off the second year of the project on September 7th and look forward to welcoming new members and collaborators that holistically represent the community in support of expanding and emerging local developers.
If you would like more information about any of the projects, if you want to attend Partner and/or Working Group Meetings, please contact Josie Santos, Mass Development TDi Fellow, at jsantos@massdevelopment.com. 
Stay up to date and sign up for Hyannis TDi Short Reports to be delivered right to your inbox.