LIMITED TIME SLOTS ARE STILL AVAILABLE THIS AUGUST AND SEPTEMBER
Low cost, low
risk downtown Hyannis opportunity!
The Snack Shack at the Harbor Overlook is up and running with Centerville Pies taking the lead in the brand new mini-commercial kitchen space! Centerville Pies offers a variety of sandwiches, pies, iced coffees and exclusively made to sell at the Snack Shack, "This is a great opportunity to get our brand and products in front of the local community and summer visitors and receive feedback on what patrons want", says Devin Broadly, manager of Centerville Pie Company, about their time at the Snack Shack. Centerville Pies has two locations in Centerville and Mashpee and this affords them the time to explore downtown Hyannis as a potential future store location.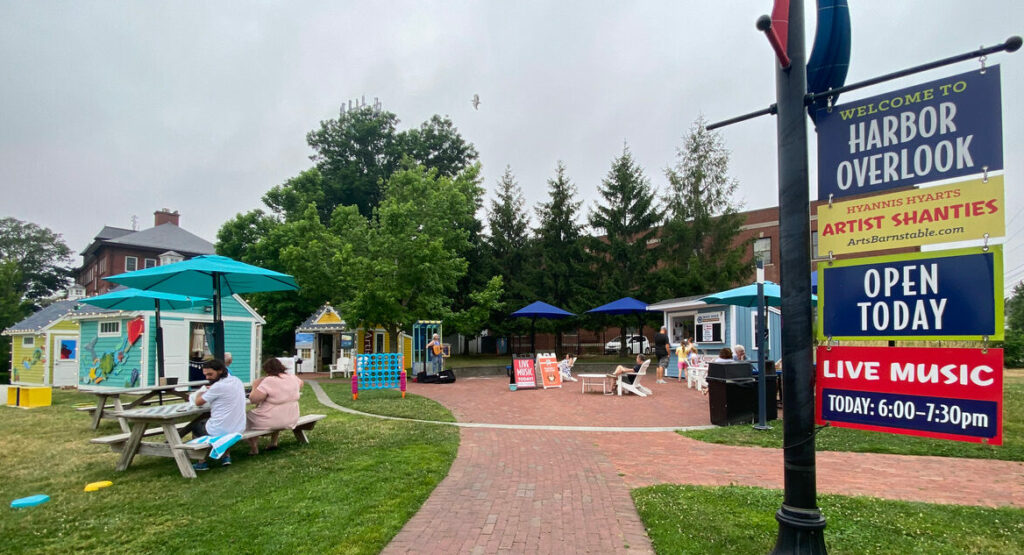 Vendor applications are currently being accepted on a rolling basis until all spots are filled. This program provides a low-cost, low-risk, well-equipped, pop-up location and small business support to local entrepreneurs who are looking for a taste of running a shop without the initial start-up costs.
The Town of Barnstable also has a limited amount of grant funding available for new food entrepreneurs who have been in business for three years or less. Grants of up to $1,200 may be awarded to help vendors purchase equipment, promote their business at the Snack Shack, hire staff, or other uses that will enhance their experience while participating in the Snack Shack program.
About the Snack Shack Program:
The Snack Shack at the Harbor Overlook is a new attraction for visitors to grab a quick snack on their way through to Main Street and Hyannis Harbor. An ideal meeting spot with casual seating for an afternoon break, quick treat and harbor view, this food component complements the Hyannis HyArts Artist Shanties, live music & interactive programs scheduled each week at the Harbor Overlook. The Harbor Overlook is a scenic and visible spot in downtown Hyannis, located in the heart of the Hyannis HyArts Cultural District, at the corner of South and Ocean Streets, steps away from the island ferry terminals, Hyannis Main Street, the Village Green, Bismore Park and overlooking Aselton Park and Hyannis Harbor.
The pilot program offers affordable selling space and prime visibility for local food-based businesses looking to expand their culinary presence in downtown Hyannis with a low cost, low risk opportunity and short-term rental dates. In addition to enlivening the economic climate in downtown Hyannis, The Snack Shack at the Harbor Overlook provides opportunities for entrepreneurs to gain and improve business, marketing and selling skills, connect with other creatives, and expand exposure for their distinctive culinary delights with thousands of residents and visitors from around the region and the world who stroll through downtown Hyannis and the Harborfront.
This program is made possible in cooperation with the Town of Barnstable and MassDevelopment. The Town of Barnstable was awarded $45,000 from MassDevelopment's TDI Challenge Grant Program for the purpose of encouraging local policy and process updates and the flexible use of outdoor space. The award has funded the creation of a new Snack Shack at the Harbor Overlook program for shared food vendor use, with new, built-in restaurant-grade equipment. The award will also provide direct grant funds to new food vendors to help support their time at the Snack Shack and promote their businesses. This is a great place-making and economic development project that's fully in line with our goals of supporting entrepreneurship and local food sector businesses. In addition to being a welcome addition to our public space in downtown Hyannis, it is a tremendous opportunity to be able to offer this program entirely through Mass Development grant funds.

VENDOR SPOTLIGHT: CENTERVILLE PIE
Current Hours (now through August 2): 10:00am - 7:00pm Thursday through Tuesday each week. You may find them open earlier or staying later each day. Their menu items include bakery items, salads, sandwiches and frozen key lime pie pops among other delish treats!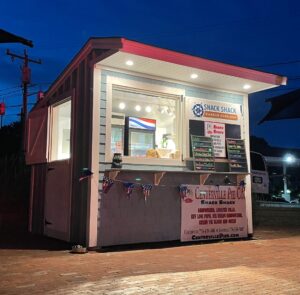 The Centerville Pie Company is a Massachusetts-based pie company located on Cape Cod. Founded in 2009 by long-time friends Laurie Bowen and Kristin Broadley ("The Pie Ladies"), the local pie shop was thrust into the national spotlight shortly after they opened their doors when they were discovered by Oprah Winfrey. After taking one bite of their signature scratch-made chicken pie, Oprah was raving, naming it one of her favorite things.